all pieces displayed at these links are owned by the Balson Holdings Family Trust collection
Zuid Afrikaansche Republiek (ZAR)
Coins, related Bank Notes and Exonumia 1872 to 1902:
Without doubt the great boer war of 1899 - 1902 has been the greatest factor behind the global interest in the coins and bank notes of the Zuid Afrikaansche Republiek. So many colonial sons from Great Britain, Australia and even Canada fought for Queen Victoria and the "Land of Hope and Glory" (see below). The new oppressors, the British, were no worse than the Boers who in turn had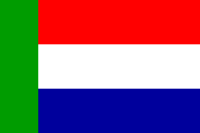 earlier displaced the weaker multiracial Griqua peoples in the region now known as the Orange Free State and, before them, the nomadic hunting bushmen had been ruthlessly erradicated in turn by the Griquas. All this happened within the period of just one hundred years.
Image right: the flag of the Zuid Afrikaansche Republiek, the "Vierkleur" (four colour) used during the Boer War. The flag, first raised in 1884, was based on the colours of Imperial Germany. (More at this link)
All South Africa's classic numismatic rarities were minted or printed during or before the boer war - consider the Veld Pond, Burgers Pond, Strachan and Co tokens, the Griqua Een Pond bank note and Kruger coinage. All these pieces are now classic chariots - great investments - as demand grows.
Background music (classical contemporary British war song) sung by Clara Butt 1911:
Land of Hope and Glory,
Mother of the Free,
How shall we extol thee,
Who are born of thee?
Wider still and wider
Shall thy bounds be set;
God, who made thee mighty,
Make thee mightier yet.
Classic rarity - 1959 Specially Selected Five Shilling rated at 67 by ANACS

Email: info@tokencoins.com
The Balson Holdings Family Trust has a large collection of post 1923 S African coinage.
This classic rarity in the Balson Holdings Family Trust collection is the highest rated non-proof 1959 South African five shilling piece in existence. The 1959 5/- is South Africa's rarest non-ZAR crown with a circulation of just 6,139 coins of which most, some 2,200, were issued as specially selected. No crowns were required for circulation in 1959 due to sufficient mintage in previous years, but at the request of numismatics societies they were produced in order to maintain the series.
The specially selected piece below is on a par with its "Gem Proof" brother being recorded as MS 67 - making this piece a double rarity through low circulation and exceptionally high grade.