This section has been included at the request of hundreds of visitors to this website. Since it was set up we have had over three million people visit - and we hope that many more will enjoy the fruits of hours and hours of research by Scott Balson and his research team.
---
More comments - 2005 and before at this link
---
November 2009
Hi Scott,
Thanks so much for contacting me and your input (on the Veldpond), I really appreciate it.
I would very much like to have your permission to link to your sites, as well as to quote you on information relative to points of interest, with of course credit to you for whatever I may use of yours, as I have done with Rentia and many others.
I receive numerous requests from various schools to allow them to use information that I have put on the web pages for school projects. I allow this on the understanding that credits be acknowledged where due, I hope that this would meet with your approval.
I had already read, with much interest, your 2006 article on Pilgrims, before your email of today, and as a result in fact found the old fort using a GPS and your info. I would really like to update my Pilgrims page using some of your info, again as I say, with credit to you. It is quite encouraging to receive the feed back that I do get from many people around the world, even in some cases, where they merely state how much they enjoy reading what I have recorded.
Sadly, as you observed and remarked about in your article, Pilgrims is going downhill more and more rapidly. Raw sewerage is now being discharged into the Blyde River and some shops have burnt down as a result of no electrical maintenance by the municipality.
Louis-John Havemann
Pilgrims Rest
---
October 2009
Hi Scott
Congratulations on the new look home page. I thought the old one was pretty good as well but this one is fresher and that wonderful photograph of the man does place more emphasis on the Griqua who are the main focus of the site. That photo captures the Griqua look so well. I know about your museum but have never asked about the details. Is it at your home? Have you had it specially built and what is the lay out like? Is it open to the public or just researchers and interested parties? There is some irony about a museum in Australia dedicated to the Griqua.
Trust you are well
---
August 2009
Hi Scott
What a fascinating find. One of the great frustrations of Griqua history is that there are so few first hand accounts of the Griqua settlement on Mount Currie. I have come across only three. The foundations that remain were obviously from better built and more substantial buildings. One presumes that the 200 mudhuts were not substantial enough to have foundations remaining after a 130 odd years. One can then speculate that more effort would have been put into building the church and the kaptyn's house and therefore these are the foundations that remain. I don't think that any one could dispute your identifications. Perhaps the building behind what was probably the church could have been Kok's house. Goodliffe & Ballance's store seemed to have been falling down even before the Griqua left. But again who could say? I think it would be a wonderful idea to under take a dig at the site. I dont know how we would go about it. We would have to get permision as it is a national monumnet. Perhaps the museum in Maritzburg would be intersted. When are you comimg out again. Perhaps a joint Kokstad Museum/ Natal Museum Scott Balson dig could be arranged. I will try later this week to go up and measure the foundations. Again what a wonderful find.
Regards
Milner
---
June 2009
Scott,
Greetings, yes, it's been a while. Your website and historical work is surely growing, great job! Good to hear that you're going on another dig. In the google earth photo the Goodliffe & Ballance store looks to have a parallelogram shaped foundation outline. Is that something to do with camera angles? My photos of the store show it to be a rectangle. I've been going up the Orange River checking for remnants of river digging encampments in the Northern part of Griqualand West. Wish I had a way to get close up photos from someone who lives in the area as google earth opens up so many new questions!
Will you be keeping a blog on the trip? Or facebook / youtube?
All the best,
Ron Carlson
---
April 2009
Hi Scott
Hope you are well and business is good.
Im still a buyer for a set of Strachan & Co Tokens one day !
Just as an aside - Im reading up on C J.Rhodes these days and there is a lot published that makes reference to him directly and indirectly.
As an Architect Im quite fascinated by Dutch Colonial Architecture and why it happened etc.. But of course in a never ending task of making connections of the Strachan Family - I noticed you had on your Webpage a picture of Donald Strachan seated with C J.Rhodes! wow! Are you able to provide me with a copy (which I'm happy to pay for) and what are your findings in relation to the relationship between Strachan and Rhodes. Further - can you recommend some source material? Where did you buy "With Sword and Statute" what a great find - I think there is one on the net at around $750 AUD but Im keen to look out for older Antiquarian Books that are about Rhodes / Rhodes - Strachan (referenced) can you suggest any and indeed a good bookseller.
Kindest Regards
Scott Strachan
---
February 2009
Dear Mr Balson,
I have been very interested to read all the information you have on the Strachan and Cole family history as well as your trip back to South Africa and the history of the Griqua people.
My grandmother was Sydney Button ( nee Strachan) the oldest daughter of Robert Strachan and Kitty Cole. We spent many happy holidays in Umzimkulu on Ebuta, my grandparents farm.
I would like to use some of your work in our family history that I am compiling. This would not be for commercial use but just for the family.
Thank you so much for this wonderful site. I have visited it many times and keep finding something new.
Yours sincerely,
Anne Leddra.
---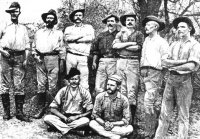 October 2008
The picture you have titled men of the Bechuanaland Border Police, dated 1893, is actually a group of Officers of the Victoria Column in the first Matabele War of 1893. My mothers great uncle is front row left of the picture, Lt John Sampson .
regards
---
September 2008
Hi Scott
Many thanks on pointing me in the direction of the new website on the veld pond researched by Dr R Landman.
In her research she mentions that there was only one set of dies, however, two distinctive varieties exist namely one with a slash above the Z of ZAR on the other without the slash. The slash is convex on the coin which means that a dig developed on the die. According to dealers and fellow collectors, the one with the slash is far more common and obtains higher grades by the American grading Companies. It is further mentioned in her reseach that the dies where stolen and may have been used to produce more veld ponde. A similar thing happened when the 1900 dies were stolen and refurbished and 1900 ponde appeared on the market in a better condition than those originally struck .
Similar to the Burgers ponde ( fine and coarse beard) should collectors not try and collect both varieties. However, the question begs are one of these varieties maybe fakes?
A have a special interest in the veld pond as I was born in Pilgrimsrest 23rd September 1948. However, I am passionate in collecting the full ZAR series. See my collection on www.zarcoinage.co.za.
Best wishes
Colin Read
---
August 2008
Scott
The tokens have arrived and I am delighted with this piece of history. I initially did not appreciate who I had purchased the coins from. I am from Durban and am temporarily living in the UK. I collect ZAR coins from 1892 to 1900. Several reasons but it also has a heritage on my wife's side with her English ancestors who arrived in South Africa in the late 1890s. Although I was aware of the Strachan and co tokens it is only a few weeks ago that I did further reading and found it absolutely fascinating. I have made a decision to collect a full set. Its a tall order which will take some time. You also have the majority of the MH tokens available so in the end it will really be up to you to allow me the privilege of a full set.
Kind Regards
Mike Kirykowicz
---
June 2008
Hi Scott
I had contact a year or two ago with a Griqua man at Kokstad Mount Currie called Gert Kok through a colleague who collected coins, he has since passed away but at the time he was in possesion of coins that according to the telephone conversation I had with him had "voeltjies" on them. I realised that they were probably Union Farthings (Griqua coins had only a 'duifie' singular on the back)and not Griqua Coins and regret not having traveled 400kms to see him. I am still in contact with these people and may one day find a Pence amongst them in spite of all that they have gone through.
Our coins,Griqua S&Co Batavia Gilder etc tell stories of past days that is much bigger than any book can encompass.R.W. Johnson's 2004 book South Africa (the first man the last nation)Jonathan Ball Publishers is a breath of fresh air into giving us a more balanced view on our history.it has sections on the upheavals caused by colonial forces in the Griqua occupied area in the 1820 period far more complex than many think.
From the above, the absence of an obvious shop/store does not mean that the Griqua coins were not used for trade. I have personally found Turquoise beads amongst San implements on Eastern Cape Coastal Middens.
Best Regards
Georg
---
May 2008
Hello Scott
I emailed you a year or so back to ask if you would share anything about Estcourt and you were kind enough to send me a story (about chasing a black thief.) It's a little late, but thank you for that.
I've just looked up the Durban Club on the internet as I am also writing a book (set during the Boer War) and am researching a scene where the heroine goes to lunch in the Durban Club. It is 1899, so it is before the Club was demolished and rebuilt.
Firstly I was intrigued to see your name involved with the Club (I attended a wedding reception there some years back – my husband was at university with Colleen Boyd (now Moore) – she and Kevin are members no doubt for the reception was for one of their daughters.
Secondly I was intrigued to see there was a Churchill room at the Durban Club and I wondered if you knew anything of the history of this? So far as I know Churchill was only in Durban once, in October 1899 – he was not yet twenty five – and only had a few hours in Durban as he was in a screaming hurry to get to the Front. I wondered if he'd have had time to pop into the club.
Any information you could give me would be most gratefully received for my book has a great deal to do with Churchill. (My husband's great-grandfather was Station Master of Estcourt when Churchill was encamped on railway property..
Many thanks
Jenny Clegg
---
G'day, mate,
I'm finding out magnificent things about my history and ancestry through a chance look at your web-site, many thanks. I never realised No Mansland was such an amazing historical place, our history teachers always seemed to make it all so remote and 'unpeopled', until I found out that my ancestors were part of it all, from the chance meeting and marriage at Gretna Green of my g-g-grandfather, John Richard Houston Mc Millan and Sarah Ann Sykes in the 1850s, who ran away to SA with a suitcase of money from either one or the other set of parents, he being 23 and she, just 16, London Jewess, and told by both families, never to return, so they took the name of the marriage celebrant (probably apocraphyl) Houston and founded two farms in the Ixopo district, and prospered, having 12 kids and all. I now find from Milner Snell's work that James Cole married a 'Sara Ann Lily Houston' ( rumour has it that our lot kept the marriage celebrant's name for a while till the scandal of the runaway to Gretna green was over )... could it be that she was a daughter of my Scots and Jewish progenitors? My grandfather, Frederick Alfred Houston Mc Millan always spoke in glowing terms of James Cole, so perhaps there is a link there.
Congratulations for what you did for this forgotten people.I, a SA White, always felt so sorry for these lesser people, so down-trodden and hopeless, and yet I was powerless to help, being on the Security Police lists, and feeling out of my depth, helpless, hopeless, lost.
You have restored my hopes for perhaps a better world, in the long run, after all the greed and lust and racism is gone, well done.
Many thanks, or, in the words of Mandela, Bayete Inkosi Gakulu.
Cheers and contact me if you are ever in this safe little haven, Tasmania, we'll have a few ales together.
What about a launch of your Book here, I know at least a dozen SA's who took the 'chicken run', who'd be happy to meet you, so come on down, you'll be welcome.
Cheers
Rick Calitz, son of Elizabeth Cornelia Houston Mc Millan, daughter of Frederick Alfred Houston Mc Millan and Elizabeth Cornelia Houston Mc Millan (daughter of Johanna Von Wye), son of John Richard Houston Mc Millan, late of Ixopo, husband of Sara Ann Sykes, fled from Europe in 1850 to Ixopo, Natal SA.
---
April 2008
Hi Scott
The Larkan tokens have arrived safely. I am delighted with them, they really are super pieces with such a fascinating history. With the bobbins, they are the highlight of my token collection. Many thanks once again.
Your website always makes for interesting reading, and I think there can be little dispute that the Griquatown tokens/coins never circulated or served any purpose. The lack of response/counter arguments from Hern and the like, further prove this. And like you say, it also brings to light the real importance of the S&Co pieces in SA Numismatic history. Should Hern ever update the token catalogue (both Allyn and Nigel seem to think this will happen within the next year or two) it would be interesting to see the value he now places on them ?
Regards for now. Keep well
Steve van Niekerk (Johannesburg)
---
Dear Mr. Balson,
today I received the F.C. Larkan token, which I won on your auction some days ago. Thank you very much for the fast shipment.
I am very happy about this token, because I read the story how you find those items in South Afrika years ago on your website www.tokencoins.com. It is a fascinating story and I will always think about it by looking on the coin. I already have a handful of Strachan tokens yet but this is the first token from Larkan.
Hope you will offer some more South African tokens in the future. Sorry for my not perfect English.
Greetings from cold and rainy Germany to (hopefully) sunny Australia
Yours
Dietmar (muenz-goofy)

---
Hi Scott
I think the Strachan set should be around £4000, they are excessively rare. also tokens are not an exact science, and traditionally have accrued slower than ZAR, but watch this space, patterns are seriously rare and will overtake normal coins.
Dave Southwell
---
March 2008
Good Morning Scott
First of all, congratulations with you amazing website. Well done. I am a South African but I have been living in South Korea for many years now. When I first arrived I came across a few beautiful coins from SA. Fortunately, I bought them. They were all gold coins from our wonderful Kruger range. The bug bit me, and I started to buy more gold coins, including some of other countries.
Long story short. I plan to go back to SA within about a year. I saw however that it is illegal to bring gold coins into SA!! Is it true? This is honestly a collection, and I will be very sad if I have to leave it behind or pay tax on it. Is it possible to register it as a collection somewhere? Sorry for taking up your time, and once again thank you a wonderful website.
Kind regards
Nico le Roux
South Korea
---
August 2007
Hi Scott
Some years back I made contact with F.C Larkan's daughter in Durban. I spent the whole of half a day with her chatting. I recorded some of the things she said on tape. She gave me some of the most interesting items that were taken from the stores and that were used by F.C Larkan. I have the original Ledger with daily takings written in F.C Larkan's hand writing from the Bont Rand store. She also gave me a bottle of beads taken from the shop and still in its original bottle that was sold in the shop. The most interesting item was a Victorian scissors that was used by F.C Larkan for sowing. In the ledger starting from the back, are all Larkan's recipes. I will never forget the day when she pulled out a box, and it were Larkan tokens including some of the bobbins...... Some days later, she got me in contact with her brother. He showed me the original Boer war medals of Larkan himself. He was kind enough to give me a printout of the Larkan family tree. Apparently, they still have family reunions at Donnybrook one a year. I have since lost contact with them as they have moved.
In the past few years, a lot of items from Strachan and Larkan have been coming out of the woodwork. I have a dispensing machine for matches which I purchased at the Cannons auction with +- 35 Strachan tokens still in it.
Personally, I think there is still a lot of stuff out there and not all were accounted for.
best regards
Anthony Govender (Durban)
---
Dear Scott Balson,

I love your website. I like the Indentures on Somerset, I focus my collections on Indentures Of Singapore.

I have about 80 in my collection. I collect British Colonial Documents mainly Indentured of Land.

Just sharing my thoughts....

Warmest wishes.

Attached are two of my pieces...

Simon Monteiro
---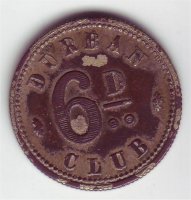 July 2007
Image right: brass Durban Club pattern 6d
I also have a brass Durban Clud 6d in my collection, there is one other that I know of and its in the collection of Keith Murray (President of the Natal Numismatic Society)
regards
Anthony Govender (Durban)


---
May 2007
9 May
Scott
Burchell states that there were shops in this region, surely that means they were using coinage, I have Burchell's first edition set of books, sorry not for sale, not for anything, it took me 10 years to find these
Dave Southwood
REPLY:
9 May
Dave
I have Burchell's book and have read it cover to cover.
See: http://www.tokencoins.com/book/d.htm#burchell
There is a pic of Griqua Town in June 1812 drawn by Burchell http://www.tokencoins.com/griqua/gtown.jpg
There are NO shops - just about 20 Griqua huts and the missionary buildings
Suggest you reread the book - or advise me where he talks about shops. Even Campbell who followed in 1813 said that they had no shops - and this was just before the Griquas left Griquatown a ghost town because of their disagreement with the missionary Anderson.
Barter was king and the coinage never circulated - but you go ahead and buy - you asked my advice I can only tell you what I know.
Kind regards
Scott Balson
DAVE's REPLY
10 May
Scott
Ok sorry, you're the man who knows this, so I guess I will have to concede that it is so, but I will chat with my friends in Paddock, there are some old people there who seem to remember their Grandfathers using the stuff, we shall see.
It makes sense, why create a coin and not use it?
Dave
REPLY
10 May
Hi Dave
Campbell acted on his own and even Parsons in his 1927 book which perpetuated the furphy that they circulated at Griquatown states that the London Missionary Society knocked back the idea of the coins being minted for use at Griquatown. i.e. They refused to support Campbell's plan.
The coins that are in existence are nothing more than a small number of pre-mint patterns created by the mint before they were authorised by the LMS to mint the coins for the Griquas. That call never came. I have a book in which a letter from Anderson refers to a small number of the coins being sent to Griquatown by Campbell BUT never being used or circulated. Anderson says that he had kept them in a small canvas bag and asked the LMS for direction on what to do with them. It could well be that he gave them out to people who lived at Griquatown BUT they never circulated as a currency. Even Campbell in his second trip leaves out any reference to the coins - he only refers to Rijx Dollars being accepted by the Griquas for payment by Boers. In Campbell's telling 1834 book "Journey of Travels in S Africa" he leaves out any reference to the Griquatown coins while referring to the laws he introduced. This journal is an updated book on his first 1813 trip.
You can see scans of the relevant pages at: http://www.tokencoins.com/campbellab.htm
Why would he leave out the Griquatown coins if they had circulated? Why did Moffat never mention them... In fact the only reference in a book to them is before they were "minted" - i.e. In Campbell's first trip to RSA.
There were no stores, banks, or places to trade. In 1815-16 Griquatown was a ghost town with just a handful of residents.
See: http://www.griquas.com/2006/21.htm for my trip to Griquatown and overlays on Burchell's drawing.
I have absolutely no doubt that they have no real numismatic place in S Africa's history - they were a red herring that people like Parsons developed into an impractical fantasy! And those who have the patterns now fiercely defend that position because of the money they have invested what have no more numismatic relevance than the Jagersfontein 5 Gallon token.
The Strachan and Co were S Africa's first widely circulating currency - pre-dating the ZAR and serving a practical purpose unlike the Burgerspond. The recognition of their place in numismatics is only starting to gather strength.
.
Kind regards
Scott Balson
---
April 2007
I was so pleased to come across your site and all the information you have put together about the Griqua people.
I was wondering if my ancestor, The Rev. John Philip of the LMS and of Scotland, had anything to do with missionary services to them. I know that he was in great disfavour to the Dutch and others for his championing of the rights of men and against slavery. So, wondered if he'd had any truck with the Griquas through the LMS?
Look forward to hearing from you,
Sincerely,
Coral Anna (Cartwright) Foster
Mt. Solon, Virginia, USA (Ex Cape Town)
Reply:
Hi Coral
My soon to be published book "Children of the Mist" talks about Dr John Philip's role in securing the Griqua people the lands north of the Orange river in the 1820s.
You can find out more about the book at: http://www.griquas.com
More links on Dr John Philip on this website:
http://www.tokencoins.com/book/e.htm#cape

http://www.tokencoins.com/book/moffat.htm

http://www.tokencoins.com/book/b.htm#inquiry
Kind regards
Scott Balson
---
January 2007
Dear Scott
HOW MANY VELD POND WERE MINTED?
The information presented by professor David Reed Thomas, that according to a letter from Cooney, only 530 Veld Pond were minted at Pilgrims Rest, is probably nearer to the truth than Kloppers's figure of 986. Kloppers's figure of 986 has as yet not been verified by any form of bookkeeping or by evidence forthcoming from a second person.
Kloppers's figure of 986 may be inflated, and cannot be accepted without any further ado because major errors were reflected in his account of the minting of the Veld Pond. For example, Kloppers maintained that he had been the Head of the Field Mint and that Veld Pond were minted under his supervision. In following years, numismatic articles and books entertained the readers with fanciful tales of Kloppers being the genius of the Veld Pond-venture.
The Veld Pond was NOT minted under leadership of Kloppers. In actual fact Pienaar qualified for this honour as he had been appointed by general Muller, as head of the Field Mint since its inception in February 1902. It was only on 5 May 1902 (three weeks before peace was declared), that Kloppers was requested to deputise for Pienaar, who had at that stage to shoulder Muller's responsibility, because the latter had to participate in the peace talks at Vereeniging (Letter of appointment in the National Archive). By then, minting activities had ostensibly drawn to a close, as three days later (8 May) the men involved, already received medals for services rendered at the Field Mint.
As the letter of Cooney is now made known, information is also obtained from the personal notes of Reid, that £400-500 Veld Pond were exchanged with the burghers on a £ for a Veld Pond basis and that the rest were handed over to the Government. The question now arises how many Veld Pond were handed over to the ZA Government?
According to rumours, General Lucas Meyer, member of the Executive Council of the ZAR government, took 80 Veld Pond with him when he left Pilgrims Rest for Vereeniging where peace talks were in progress. Should the sum of 80 be accepted as the number of Veld Pond handed over to the government and this 80 is added to the sum of 400-500, the total number of Veld Pond is closer to Cooney's figure of 530!
The value of a Veld Pond was 22 shillings. The total gold value of 530 Veld Pond would therefore be £583, which could correspond with the raw gold of a value of £500 that was in possession of the Commando plus the amalgam, that general Muller ordered to been scraped, at the mines.
The amount of 986 as indicated by Kloppers, may be one of the distorted facts that surrounded the history of the Veld Pond for so long.
Kind regards
Dr Rentia Landman
Lyttelton, South Africa
Email Rentia
NS (I compared the handwriting of the letter in possession of Mr Thomas with a letter of Cooney in the National Archive. Mr Thomas's letter is in the handwriting of MJ Cooney.)
---
November 2006
Hi Scott,
Hope you are well.I have just been forwarded details of a Gilded Griqua 1/2 Pence that has been graded in the Baldwin Collection by NGC. This was mentioned in Parson's 1927 Book but never found. I have some nice images of my Holed 1/2 Pence that I can send you. We discussed the whole issue at Monday's meeting of the Natal Numismatic Society meeting and it is thought that the Copper Griqua Pence did circulate because of the extreme wear on most of the coins that is far more than happened to the Patterns. Thanks for sending the book on The Griquas and their Coins. I have read it carefully.
Regards Georg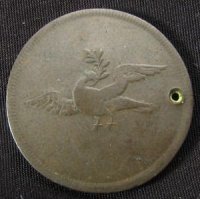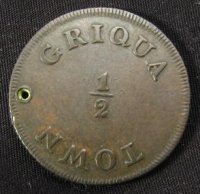 The Griqua half
October 2006
Dear Scott
This is just to let you know I received the tokens and book. Thank you very much. They will definitely be an asset to the Absa Museum.
I have given serious thought to the debate but am experiencing a number of challenges in getting support or buy in from the local fraternity. I will keep you in the loop and will probably be in a position to given you a definite answer in the new year.
Once again, thank you for your generosity.
With regards
Paul
---
I am Rentia Landman (neé Reid). My grandfather is one of the men who made the Transvaal Veldponde at Pelgrimsrust in South Africa.
I read on the website Tokencoins that you are related to Michael Joseph Cooney. I did some research on the veldponde and can provide you with information that you may not have – information obtained from the National Archive in Pretoria (document nr SS R331/1900)
Op 22 November 1899 MJ Cooney was found guilty on culpable homicide by the circuit court for Soutpansberg and sent to gail for 5 years. He acted in self-defence. The public of Pietersburg lodged a petition for his release on the grounds that "Mr Cooney is a man of good and honourable character". Petitioner number 17 is D Graham supposedly the same D Graham who later on also became a member of the team who made the veldponde. Cooney himself also wrote a letter to the ZAR Government, pleading for his release. He signed his letter with ME (Master Essayer). The prison warder send the petition and Cooney's letter with his own recommendation that prisoner no 302 should be given special pardon in view of the political situation in the country.
Cooney is not on the photo of the group of men who was involved in the veldponde at Pelgrimsrust because as soon as peace was declared an officer of the British Intelligence Service took Cooney in custody on grounds of the following accuses:
That Cooney disguised himself as a prospector to spy on the British military forces during the war (Anglo Boer War)

That during the war Cooney took a battery from the house of the resident ingenieur (Mr Damant)of the Pietersburg goldmine, to give it to Carel Craemer (a young German who fought on the side of the Boers) to be used for the ignition of dynamite to blew up trains with British cargo.

That Cooney made a bomb for general Ben Viljoen to blew up the Spekboomrivier, to prevent the British from entering Pelgrimsrust.

That Cooney scraped gold amalgam from the copper plates at the goldmines in the Lydenburg area and gave it to the Boers.
The Intelligence officer asked his Captain in Pretoria, what to do with Cooney who answered: "no further action is necessary in the case. The man can be released, but should be given no assistance or privileges of any kind, except permission to return to his own country, should he wish it."
THE TEAM
Mr Andries Gustav Erlank Pienaar appointed a team of four men for making gold coins:
1. Michael Cooney an essayer for testing the purity of the gold
2. Dick Graham experienced in handling the crucible – for melting the gold
3. William George Reid a blacksmith who worked before the war in the workshop of Johannesburg goldmines - for adapting the machinery of the Transvaal Gold Mining Estates Ltd at the Pelgrimsrust mine for the process of minting gold coins and to soften and harden the dices.
4. Petrus Johannes Kloppers, a teacher from the Netherlands who had training in Botany and drawing – for designing the coin and engraving the dices.
WHO HAD THE KNOWLEDGE?
What puzzles me is, who had the knowledge to identify the exact four functions for minting coins so that four men could be appointed to fill the posts? Pienaar comes from Krugersdorp and I could not trace whether he was ever in his life in die National Mint in Pretoria. Reid was a blacksmith who never had anything to do with minting coins and so do Graham. Kloppers, although he took all the honour for the veldponde on himself, was by that time only a young teacher of 27 years who taught before the war at a farm school near Baberton. The most likely person to have the knowledge is Cooney. Also taking into mind that he scrapped the gold from the plates at the mines in the Eastern Transvaal, shows that he saw potential for the utilization of the gold. I have a feeling that the role Cooney played in the veldponde is greatly underestimated.
Prof Thomas, do you know where Cooney got his training as an essayer and do you know whether the process of minting gold coins was part of the training of an essayer?
Eight people (general Muller, A Pienaar, PJ Kloppers, W Reid, D Graham, M Cooney, A Marshall and WH Barter) who was involved in the Veldponde, each got a medal like this:
On the other side the name of the person concerned is engraved. Is the one that Cooney received still in the family?
If you got a photo of Cooney I would be very grateful to receive a copy and if I can assist you with more information I am more than willing to try and help.
Kind regards
Dr Rentia Landman (neé Reid)
Pretoria
South Africa
---
August 2006
Hi Scott
Thank you – please do reproduce any of my writings, as you see fit, on your web page and link my web page to your own. That feels great.
Did you see the photo of my Grandmother and father on my web page? What I could do is to scan these into my pc and send them on to you. Would this be ok? Or can you use the photos on my web page? I'd also like to send some photos of my sons, Adam (named after Adam Kok) and Edwin, both of whom are in touch with our Griqua lineage.
I am fascinated, Scott, by your life project partly because of the resonances with my own, and because of your own unique journey. I truly respect and admire your thirty year project to rewrite early South African history from a Griqua perspective because this is the kind of reclamation and recovery work I am committed to in my PhD thesis (more of that another time). It is a powerful postcolonial moment as well.
My thesis is concerned with how we decolonize our minds (after Ngugi wa Thiongo, and Maori writer, Linda Tuhiwai Smith) and reconstruct and reform them in the light of new consciousness. In my case, I've been reforming my consciousness as a person of colour, as 'mixed –race', as having an Indigenous Griqua heritage through the journey of my research. As a teacher in British higher education this is really important for me: as I try to remain alongside the needs of my students to take charge of their own lives in learning, to enhance their own humanity, to claim who they want to be, I am guided, I think wisely, by Indigenous values of relational accountability, and what I believe (imagine) to be embodied values of openness, tolerance and acceptance (some would surely say & too much trust of the British colonial regime of the Cape!).
I would dearly like to read your book and to help to enhance its influence by bringing it into the academy through my thesis. Can I get a copy directly from you? I believe your book isn't published until early in 2007?
I don't know how you feel about Robert Ross's Adam Kok's Griqua's but I got the distinct impression from his book that the Griqua nation was 'open' to working alongside others, to trading openly, to accepting the stragglers of Difaqane into community.
Though I'm not an essentialist in these matters I'm moved, deeply, to cherish a notion that my educational practice with my students is a kind of sustainable 'eco-education' guided by the embodied values of early Griqua community. Do you think I'm being too romantic in this notion, Scott?
Where is home to you now Scott as I see you will be visiting South Africa. Many of my Hendrick's cousins left SA during the late 70's and early 80's most going to Canada, and some going to Holland.
A Canadian friend of mine who did some community development work with theatre in Cape Town spoke to me about a Griqua person he'd met up with while completing his doctorate at UBC Vancouver, so it is a small but connected world isn't it.
Wishing you well on the South African trip and look forward to remaining in touch.
Take god care
Paul Murray
---
July 2006
Scott
I am very pleased now to know the identity of the winner of the Durban Club 6d. I have often found your web site on South African coins most informative and interesting. I noticed that some ebay vendors have even referred to it when selling (such as the Griqatown proof Penny that sold earlier this year for $7,000+).
I am quite surprised by the growing interest in South African numismatics. I had a number of ZAR coins listed in my recent auction batch and the number of visits recorded on the visit counter far exceeded any other group of coins I had listed. The number of bidders specifically watching those coins was about three time any others.
My own interest in South African numismatics has come from my frequent business visits to the country, 20 times in the past 4 years alone.
Regards
Richard Wilson
Response:
The baby boomers are retiring, the Internet is providing idle minds with new interests... if just 1% of this global market takes up an interest in numismatics consider the impact!
I purchased my last Durban Club 6d a year ago for under US$100. You might find this of interest: http://www.tokencoins.com/invest1.htm#law
Kind regards
---
Hello

Just wanted to let you know that your website is excellent. I have very much enjoyed reading about the unusual coins and currency originating in southern Africa. I have purchased an MS-62 German East Africa 15 Rupies (long arabesque) and hope to acquire more of this type of coin in the future.

Best,

Marcus Brinks
---
Note: Michael J Cooney was the assayer of the Veld Pond and notes in a letter to his niece, Maggie, that just 530 coins not 986 as commonly believed were minted.
The letter can be seen at this link.
The author of the information and research below is an Assistant Professor at Doane College.
Dear Scott
I am pleased to provide some insight and perhaps an update for you are your friends about the connection between me and this rare and wonderful coin. MJ Cooney was Michael J. Cooney. He was born in Galsworth Ireland in the year 1844. He was part of a rather large family. His father Patrick Cooney live to be 102 and his mother Catherine lived past 75. Michael was one amongst 13 children.
Michael, once old enough, set off for America to seek his fortune. Friends like John Watts Kearney, the son of General Kearney, introduced him to the west. Michael first settled in San Juan County, his taste of mining begins here at the "Black Wonder" mine. Some time passed and his sister Beatrice Cooney came to visit. During her stay she was introduced to my great grandfather Carroll Thomas and a romance ensued, and later they married. Thus Beatrice Cooney (Thomas) became my great grandmother.
Michael went on to explore the region and operated near Lake City, Colorado. Later he went to Leadville, Colorado where he became associated with the "New Years" mine, which he later sold. Carroll and Beatrice must have been near, because my grandfather Carl was born there and his sister Mae. Carl was spelled by Cooney as Carle (Big Brother Carle), and Mae was called in his endearing way, Maggie. Michael later went on to Cassell, Montana and it is said that he operated several silver mines there. He later made his way to the Whitlach Union and McIntyre gold mines at Unionville near Helena, Montana.
Tired of Montana, Michael decided to head for Europe and later on to South Africa. As we know, Michael became the Assayer for the makeshift mint that produced our lovely ZAR coins at the close of the Boer War. He remained in South Africa until 1904 and later returned to America in time to attend the St. Louis Exposition of 1904. While he was in Africa he became interested in diamond mining. Perhaps hearing that in the Oroville district in Butte County, California, these might be found there. So he traveled there to investigate. He later acquired the "Bank Mine Company" with F. J. Stoer of Emeryville, California.
Our letter was written from a post office box address in "Goldfield", Nevada. He must have kept a few ZAR coins and decided to give them to his niece and nephew Maggie and Carle. Unfortunately poor Maggie died at a young age from tuberculosis and both coins became the possession of my grandfather Carl F. Thomas. Carl and his wife Cecil had 2 children, Donald (my father), and Kay (my aunt). Carl gave each a coin. Kay sold hers and my father's was passed on to me. As stated before I have had this coin since 1957.
Based on these true connections, the coin I have, I strongly believe is the true thing. Cooney was there and had access and "Maggie's letter" connects the coin directly through the family to me. This makes this coin a key coin.
Michael was married twice, once to Annie Taylor and once to Emma Erfurth. There are foggy accounts as to his death. One has him living until 1929 another until 1908.
Some of this is sourced through the History of Butte County p.789, others from family still living. I intend to visit my sister in Portland, Oregon where she has stored old photos from my grandfather Carl. Perhaps, if identified, there will be a photo of Cooney which may connect him with your photo of those men grouped with the coin press in South Africa. Most of the photos, I understand are in a tin, and unmarked.
This has been an interesting adventure. I feel confident that I have now connected the dots and researched the mystery of this coin. As a marketing research professor, I had never applied my trade with a family research context. I now have gone back eight generations and have a better view of my family. This kind of research is addicting and has consumed me these past few weeks. It is good to put forty years of research experience to a personal use.
I hope that some of this is of interest to you.
With Respects
David Reed Thomas
---
Dear Scott
I have discovered more about M. Cooney, the writer of the letter to Maggie which I made a copy and sent to you. This person is not my great grandfather, but is related. In a text authored by Elias Levine 1974, The Coinage and Counterfeits of the Zuid-Afrikaansche Republiek, he is mentioned as the Assayer for the mint that made these Een Pond 1902 coins. Thus he was directly there. This information was kindly relayed to me from Tullio and Micheal Bernardi of South Africa. They have been very kind and helpful. My goal is still to find the link from Maggie to my grandfather and when the coin passed from her hands to his. My grandfather lived in Cripplecreek, Colorado in 1902 and for some years later. The coin and letter have been with me since 1957. I understand that some of the early coins may have been cracked in the process and that many may have been re-minted when mercury was added and helped these coins hold their form. The above text has a nice section on these coins. I intend to have the coin evaluated by experts and graded. I am unclear about my intentions concerning this coin and the equally valuable original letter from M. Cooney. Both of these need to remain together as one clearly has a context and interest in the other. I wish to thank you for your website and details it contains. I was a valuable launching place for my initial, uninformed, research. This quest, which started only a week ago, has sparked an interest in me for the Boer War, my own family history, and in the research of rare coins. It has linked me with some very kind and interesting people - wonderful how these things take a life of their own. I am indebted to you and the Bernardi family for your interest and kind help with all this.
With Respects
David Reed Thomas
---
Scott,
That is a very good article you have written for the British 'Coin News' about those Strachan & Co. tokens. Did you ever read my article on Chatham Islands numismatics,which appeared in the February 2006 edition of the same magazine?
Here's a link to my new British Commonwealth numismatic forum; http://bcnumismaticforum.phpbbnow.com ,which will be of interest to you. Please can you let me know what you think?
Yours in numismatics,
Aidan Work.
---
Greetings
I have had for many years a Veld Pond (Een Pond) gold coin. It is possible it may have some value. The coin came through the family and was acquired directly where it was minted. It was a new years gift to Maggie a distant relative and came through the family to my grandfather and finally to me. I have a letter that I have attached in 4 parts about this coin from Maggie's uncle M. Cooney. You may get interesting e-mails from time-to-time and this may or may not be one, but since this coin is connected to an original letter from the time it was minted*, I though it might add interest value to you. Please let me know if this is of any interest? My Grandfather was C.F. Thomas related to a Lowell Thomas.
My great grandfather was in the boer war and stole two Veld Pond gold coins (well he wasn't perfect). I have a copy of a letter sent to us along with the coins. I have one coin and my cousin sold his (the other). I have kept the coin in a small box since 1957. I understand that these coins might be quite valuable now. Are you interested in such coins?
With Respects
David Reed Thomas
*Image courtesy of David Reed Thomas
---
June 2006
Hi Scott
I would love to know whom I can contact regarding history of Le Fleur. I am related to Lettie (sister of I think Jasper le Fleur/or it may be Abraham as I was told it was the Griekwa leader) and would love to find out a little more information. Are you aware that AAS had a sister?
Kind regards
Adri
---
Hi Scott,
I am slowly but surely building a very nice set of ZAR coins. I am currently upgrading my set ( I have all but 3 coins ) to ensure that every coin is of MS quality. I have acquired a few coins with lovely toning and some are now at PCGS for slabbing.
I have also acquired a few Proof coins and Both types of Kaalpennies and Kaalponds.
My favourite collection of ZAR coins is the Royle Baldwin Collection which features many highly unusual and possibly unique coins.
Outside of the 1892 - 1900 realm I have the 1 Penny and 2 Penny coins from 1874.
Should your coins ever come to market then please drop me a line.
Regards,
Marcel Springorum
PS I lived in Australia for 20 years - about 5 in Weipa and 15 in Cairns. I am Dutch but living in Ireland.
---
Dear Sir,
I am an artist and a teacher of fine art at the University of Leeds, UK. I am currently working on three concurrent projects that explore political failure and cultural change. One of these will link the Russian city of Kaliningrad (formerly Koenigsberg) with the 1915 destruction of the German cruiser, Koenigsberg, in the Rufiji River Delta in present-day Tanzania. The project (titled 'Zones of Silence: an artist's exploration of colonialism and its influence on globalisation') is funded through a Research Grant from the UK Arts and Humanities Research Council (AHRC). In order to complete this project, I need to acquire high quality scans of and reproduction permissions for a German East African 20 Heller 'gun metal' coin. I will need examples of both the obverse and reverse faces of one sample coin.
As you display illustrations of examples of these coins on your website http://www.tokencoins.com/gea01.htm, I write to enquire as to whether you would be prepared to provide me with the high quality scans and permissions that I seek. I would be pleased to give you further information about my project on request.
Yours faithfully,
Professor Roger Palmer
Chair of Fine Art
School of Fine Art, History of Art and Cultural Studies
University of Leeds
---
May 2006
Hi Scott
Congratulations on a most excellent site. My father was very much into Natal tokens, and I'm sure he would have been amazed at your site.
Best Wishes
Mike Moran
(Mike's father wrote the first comprehensive book on South African trade tokens - The tokens of Natal)
---
April 2006
Dear Scott
I am glad to hear that work on Children of the Mist is going well. Went through the Strachan diaries. They are for the years 1868, 1875 and 1879. They make interesting reading and what struck me most was how Donald Strachan got around. There was not a week that went by that he was not riding hundreds of kilometers. It is also amazing how many people went through Umzimkulu in the 1860s. Once presumes that it was an out of the way little village but the amount of traffic passing through was very high. What will interest you is that there are numerous references to Donald staying at the Durban Club which reinforces what Ken and Margaret said about him getting the idea for the tokens at the club. What I found interesting was that when Fort Donald was being built it was snowing and bitterly cold.
Milner Snell
Curator, Kokstad Museum
---
Hi Scott
Thanks for your reply. I am looking for a dramatic hook around the so-called Griqua coinage? i.e. was there any conspiracy etc. who were the major players. This would really be a sub-plot to a Robert Moffat script. Do you know where I could get to read "Apprenticeship in Kuruman" and other insightful books on the Moffets.
By the way, I would be interest to hear/read your novel. You say it would make an interesting film: what are the dramatic elements? Maybe it would be worth meeting later in the year when you are in Cape Town. As a matter of interest do you live in Cape Town?
All the best
Craig Galbraith
---
Dear Mr Balson,
I have received your fax and re-iterate that you are entitled to your opinions (about the Griqua Town coins), but, I also have read the books you refer to and I too, have a different opinion to yours. I can refute every one of your opinions.
I find your ignorance quite outstanding and I do no accept any of your remarks as definite proof negating Parson's research.
Now let this be an end to your tirades!!! Stop bombarding me with your allegations.
Regarding your correspondence addressed to the NNS through Allyn Jacobs, I, as the Secretary of the NNS, confirmed to you the receipt of your correspondence. What more do you want!!!
Yours faithfully,
Brian Hern.
(Hern authored the book "South African Coins and Patterns")
In reply:
See this link to determine who is showing ignorance.
Despite his claim he has offered no answer to any of the points in this link demonstrating why the coins never circulated.
This is the first and only time I have contacted Brian Hern directly.
A receipt to my earlier correspondence to the NNS (National Numismatic Society) was never received by Allyn or myself and never tabled at one of the association's meetings. I was unaware at this time that Mr Hern was the society's Secretary.

Draw your own conclusions!

Mr Hern has for years presented the view that the Griqua Town coins actually circulated in Griqua Town during 1815/16 to revoke this view would be a major embarrassment to him personally and professionally.
March 2006
Hi there Scott!
I thoroughly enjoyed your listing of your new acquisition, the Border Police shilling.
I have the shilling (in not as nice condition as yours) and also the sixpence, but not the tickey.
Peter Bowles had the set from his purchase of the Badenhorst collection, and, quite understandably refused to break the set and sell the tickey by itself (a nice EF specimen). An investor has recently taken the Union Internment Camp set as well as the full De Beers, Kimberely set, and also the CDM set (R8000 he got for the very rare 10/-alone) and with his interest also in Boer-War related items I realised it was only a question of time before Peter offered him the BB Police set. Incidentally, his set includes a penny (Hern's 48d) which I am reluctant to accept as part of the set, though it may well have been. Badenhorst seemed to think it was. It is, I daresay, not impossible that items sold by the canteen were priced at 4d or 7d and change could have been a problem, causing them to manu-facture and stamp some small discs with BB (though why not BBP?). If you look at Spink's June 1981 listing of the Dick Ford collection, you will find #4753 : white metal token, 24mm., stamped BB amd acquired with two previous items (a shilling and a sixpence). This piece, however, is definitely copper and somewhat smaller. He has a second specimen and wants R1250 - far less than the genuine pieces.
Anyway, today I weakened and took the four pieces. I did this purely to secure the tickey which I honestly believe is far and away the scarcest of the three pieces, and am consequently left with a doubtful piece and two more good pieces for my "duplicates" box.
Incidentally Brian Hern has updated his handbook on South African coins and patterns, and prices are very much higher than in his edition of about five years ago. EF veld-pond I am told is at 100,000.
Chees for now, and regards,
Allyn
---
February 2006
Hi Scott
I am in the process of trying to complete a full set of Strachan & Co tokens, I bought some from Michael (M661) in South Africa and some other collectors. Do you have some spare tokens that might help me to complete the set? I require the lower denominations 3d 6d ….
I am very impressed with your website and extent of your collection. I recently acquired a Griqua Penny No Date and 1874 Burgers 2 Pence. Do you have some more information on the 2 pence? I thought during this period it was only the 1874 Burgers Pond.
It is fascinating to see so much history on the tokens.
Thanks
Riaan
People333
---
Dear Scott,
I have just re-read your article for the umpteenth time, and continue to be fascinated by it.
As for the illustrations, they are stunning. I feel one should never underestimate the interest generated by well-chosen and colourful illustrations. Perhaps only the dedicated collector will plough right through an article devoid of illustration, but even the layman or casual reader
cannot fail to be charmed as the story comes to life before his eyes, and there's no skipping the last few paragraphs!
That is probably why I'm having such fun trying to make my token albums come alive. So looking forward to sharing them with you one of these days!
Cheers for now,
Allyn Jacobs
---
January 2006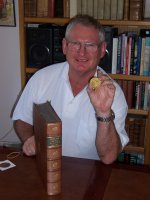 Meeting with numismatist Graeme Stephens in Perth - Charles I Specialist.
Graeme, seen right, with a copy of the extremely rare 1768 coin book English Silver and Gold Coins by Martin Folkes, has one of the finest Charles I Crown collections and the jewel in his numismatic crown in his collection can be seen below.
The coin, a 1644 Charles I Gold Triple Unite worth sixty shillings, is in better condition than the piece held by the British Museum and has featured on magazine covers in the past.
A 1643 Triple Unite recently sold on Heritage Auctions for over US$400,000
There are less than 30 triple unite coins in the world.
Graeme also has an extensive and very valuable collection of Sri Lankan coins - an area he specialises in. They date back to over 400BC
Graeme's 1644 Charles I Triple Unite

| | |
| --- | --- |
| | |

Email:
info@tokencoins.com