---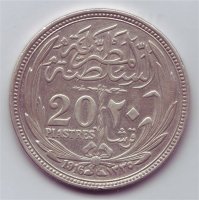 Why did Scott Balson start collecting coins?
As a young boy his father gave him the Egyptian coin seen on the right (1916 twenty Piastres). He told his son how he had acquired it while doing duty in Egypt during World War Two. As a young boy Scott used to carry it everywhere and, knowing nothing about coins, he polished it. While worthless numismatically, the piece is the oldest and most prized coin in his collection and stimulated his interest in numismatics and the history behind coins.
When did Scott start researching the coins of the Griquas?
In 1977 after being introduced to the Strachan and Co pieces by Ken Strachan, the then General Manager of the stores in East Griqualand.
What are the most valued pieces in the Balson Holdings Family Trust numismatic and related collection?
What is the most valuable numismatic piece in this collection?
The 1902 Veld Pond, valued at about US$20,000.
What are the rarest pieces in the Balson Holdings Family Trust collection?
The rarest pieces can be seen at this link.
What is the current (2004) value of the Griqua collection in the Balson Holdings Family Trust?
Somewhere in the region of US$350,000 to US$500,000. As Scott's children have no interest in numismatics the collection will be sold one day through an institution like Sothebys.
What is Scott's philosophy to numismatics?
FIRST: Specialise in very small areas and aim to establish the finest collection in the world in that area. There are plenty of opportunities available to budding numismatists. Do not generalise. Everybody has some old coins in a tin - that does not make a valuable collection.
SECOND: Start collecting related material like books, letters, old maps and related documents - research the history of what you have got - it brings your collection to life. Most of the pieces in this collection have been acquired through on-line auctions and databases. (Scott acquired all his copies of Dower's 1902 book with the Griqua Pond note for less than US$100 from antiquarian book stores in S Africa many years ago - each is today worth about US$5,000).
How did Scott get into German East African and Fijian coins and bank notes?
Scott was born in Tanganyika - the German East Africa base in the early 1900s and has an Internet-based travel agency which deals with Fiji Holidays in Villages. There is an interesting link between the three geographic regions - the coins and notes issued by the Afrikaners and Germans on the run from the Allies during the Boer and First World War and the belief of the Fijians that they originated from Tanganyika.
How long has it taken to research this subject?
Thousands of hours of reading, on-line research and communication with people around the world has led to what you see here on this web page first set up in 1998. While the project has been demanding it has also been rewarding with it being recognised as one of the finest and most informative on-line numismatic web sites in the world. As a result of the research Scott has written a book Children of the mist about the Griqua people. The tokencoins.com web site draws several hundreds of visitors each day - these include amateur and professional collectors, high profile numismatists and coin dealers. A sample of their feedback can be found at this link.
Over three million people have visited this page (the counter was only set up in 2000)
What's the deal with the Griquatown token coins?
Following years of foundation research Scott realised that the suggestion that the Griquatown Coins circulated is a complete hoax perpetuated by one badly researched article by Parson in the 1920s. Despite posting overwhelming evidence that the tokens never researched a handful of prominent numismatists in South Africa continue to push this lie. In the interests of his hobby Balson has provided links to all his documented research and references. Despite this fact "the flat earth society of numismatics" continue to claim the Griquatown token coins actually circulated and were South Africa's first indigenous currency!
How do I get an independent valuation on coins?
Beware of dealing with coin dealers on the Internet. The ridiculously low prices offered on the Internet for very rare pieces by some high profile S African coin dealers speaks for themselves. You are far safer selling a rare numismatic item, without reserve, on Ebay - there is a big enough audience out there to find a true representative current value. The Randburg Coin and Diamond Company is a classic example of low prices - see this link where prices offered to unknowing sellers are but a fraction of their real value.
We offer top prices for coins that we seek. If you are going to sell them on eBay - let us know and we will probably be bidding - alternatively we will buy them privately - email us.

Email:
info@tokencoins.com

Scribbles - Koala Trouble Global Web Builders Dar-es-Salaam Fiji Holidays EmailStaff Author