.

For the record the Griqua missionary, William Anderson, never wrote any books so his letters and journals from this period covered in "Weapons of Peace" are the only records by him of this time at Griquatown. "Weapons of Peace" covers in great detail the despair the missionary felt when the main Griqua families moved away from Griquatown from 1814 leaving the settlement a ghost town. Andries Waterboer only returned many years later.

Incredibly, in point 30 of Nortje's "award winning research" on the Griquatown tokens he states that William Anderson wrote the 1828 book "Researches in South Africa". This is a huge error of a very basic fact and reflects just how sloppy and uninformed Nortje's "research" is. He found the reference to this book and William Anderson on Balson's website (linked here). Trouble is William Anderson did not write the book - Rev John Philip did. Philip refers to Anderson's journals and quotes from them. As Balson mentioned before Anderson never wrote a book, he only kept journals and letters. This is just another example of what happened when Nortje fraudulently plagiarised Balson's online research while suggesting the research was his own and claiming to be an expert on this subject.

In fact, Peter Anderson in an email reply to Scott Balson in September 2016 states (email exchanges linked here):

I certainly do not recall in any of the letters and journals any mention of local coinage/token in Griquatown during Anderson's time there. I would not call myself an expert regarding William Anderson but it is my impression that had there been local coins produced and circulating during his time he would surely have mentioned this in his letters or journals. and:

Yes, unlike some of his illustrious contemporaries William Anderson never wrote a book nor did he ever return to England.

Balson put the publisher of the new South African coin catalogue, Morgan Carroll, in direct contact with Peter Anderson - this is what he wrote in reply to Carroll in early December 2016:

In none of my research did I ever come across mention of the Griqua tokens or coins. My research mainly involved going through all the letters and journals of Anderson and his colleagues in the LMS (people such as Kramer, Read, Thom, Moffat, Campbell, Phillip, etc) found in the extensive and excellent archives of the LMS in SOAS in London. Of course I also read other contemporary writings (Burchell, Lichtenstein, Backhouse, etc) and various LMS histories, and also consulted more recent academic articles and books on SA history.

Full email exchange direct between Carroll and Anderson at this link

These are the facts known by Hern and Wilson yet they, in the name of the National Numismatic Society (NNS), present Pierre Henri Nortje with a misplaced award only because it suits their personal agenda in promoting the lie that the Griquatown tokens circulated and were S Africa's first circulating indigenous currency. This has nothing to do with the FACTS of the matter or benefiting the goals of the NNS or its membership or far more importantly the BEST interests of South African numismatics. Their questionable actions left Balson with no option but to publicly expose them here.

It's not rocket science folks. A parallel of stupidity to the suggestion by Nortje that the Griquatown tokens circulated would be setting up a computer at Griquatown back then and hoping to be able to Google anything without any power to get the computer working and without any Internet connection even if you could somehow power the computer. The simple fact is that the Internet or Google, anyway, did not exist back then and the Griqua, likewise, had NO store to trade token coins and had NO understanding of the concept of money. I agree - Nortje's ingratiating and fraudulent PDF on the Griquatown tokens is ridiculous and self-serving!
---

---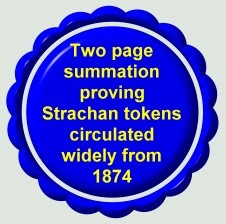 2. WHEN WERE THE STRACHAN & CO TOKENS FIRST ISSUED - Nortje distorting the truth by purposeful omission to suit his own predetermined outcomes (falsification):
NOTE: for those who just wish to view a two page summation of the evidence that the S&Co circulated widely from 1874 - take this link
In early 2016 "award winning" Nortje brought out his "research and findings" on the Strachan tokens proclaiming that they had only been minted in the early 1900s and were not S Africa's first widely circulating indigenous currency. His motivation in his PDF can be clearly seen - a failed attempt to try to discredit Balson's research as well as the new coin catalogue by Morgan Carroll and to pander to his masters at the NNS (Hern and Wilson). Of course his new "research", backed by the NNS recognition of his fraudulent research on the Griquatown tokens above, was once again fatally flawed - but this time by several deliberate omissions of key known facts and deliberate editing to fit a predetermined outcome - a classic example of this is demonstrated below.
That is fraud.
Here is the proof:
This is a screen dump from his PDF on the Strachan tokens. You will notice most of the last line is blank. It is not blank in the original document where he got this information. This screen dump in Pierre Henri Nortje's "research" was originally scanned from the 1978 booklet "Kence, the trade tokens of Strachan and Company" by Scott Balson and Prof Clive Graham. (There is a scan of page 9 of the "Kence" book below the screen dumps shown here)
This screen dump is a part of the diary note by Douglas Strachan - the son of the founder of Strachan and Co, Donald Strachan. It is the only edited piece from the critical diary note that Nortje displays in his "research" PDF on the Strachan tokens:

Here is the same extract including the balance of the line deliberately deleted by Nortje because it was an inconvenient reality. This is as it was in the original diary note by Douglas Strachan:

The balance of the line in the screen dump is underlined in red and, as you can see, completely destroys Nortje's argument predeterimed by him in his "research". This is the reason he deleted it. This is not research - this is fraud (falsification).
You can see the original page of Douglas Strachan's diary note out of page 9 of the 1978 book "Kence, the trade tokens of Strachan and Co" at this link
A small part of the history of the booklet "Kence" can be seen at this link.
Furthermore, 90% of Nortje's "research" was transcribed directly from a booklet by Milner Snell on the history of the Strachan stores namely Strachan and Co Pty Limited, Merchants and Importers. Interestingly Snell's focus was on the stores and he only mentions the token coins in passing. Snell, who was the curator of the Kokstad museum, was never contacted by Nortje for his views on this issue before Nortje published his rubbish. This (as usual) selective and blatant plagiarising by Nortje is entirely self serving. In fact the unprofessional and fraudulent methods used in Nortje's flawed research smacks of the tactics used by Parsons in his research discredited by Spink, Krause, Morgan Carroll and Stanley Gibbons today.
However Snell and Balson had been in regular contact in this period and Snell confirmed to Balson by email that in his view the first S&Co tokens were issued in the 1870s and that Douglas Strachan's diary note confirming this could not be ignored. Snell's move into researching and publishing was initially inspired by the booklet "Kence" - he told Balson this. Balson and Snell have been good friends for over ten years and shared many thoughts and links to research over this period.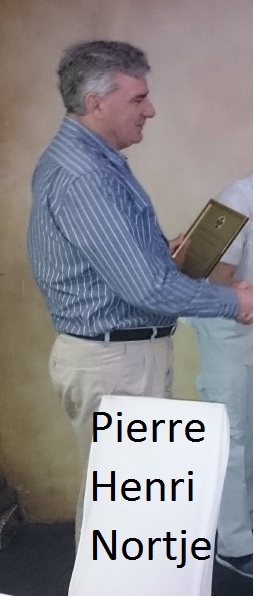 As you can see above Nortje did not entirely ignore the diary note but simply edited a selected extract of it as demonstrated above to suit his purposes and did not even bother to contact Milner Snell for his views.
Nortje was desperate to claim the role as expert in this area, after two weeks of "research", as can be seen on the BidorBuy forum in this thread. More fraud by Nortje the expert in research fraud recognised by the NNS - and the reason he attacks the part of the Strachan tokens becomes self apparent. Years ago, Milner Snell sent Balson an email on 23 September 2009, here is an extract:
The more I think about your new token theory, the more excited I get about it. I believe that Kence was the currency of East Griqualand from the mid-1870s to the early 1890s. By then the imperial currency was on a firm footing in East Griqualand, mainly brought in by migrant labourers. After that date the tokens take on, in my view, the more traditional role of paying for mealies and it would seem becomes the currency of the rural poor. I think this is a fascinating road to go down - the idea of an alternate currency for the poor. This idea is filled with all sorts of social and economic implications. The idea has to be developed!
More on Milner's comment above at this link.
Earlier, in 2007, Milner Snell welcomed and introduced Scott Balson to the Griqua Community in Kokstad when he launched his book covering the history of the Griqua people . This book took 30 years of extensive research and is now adopted by The Griqua as their official history.
For the record Nortje (seen right) did deliberately edit out or ignore the following in his fraudulent PDF on the Strachan tokens (falsification):
- deliberately edit out the line from Douglas Strachan's diary demonstrated above that destroyed his fraudulent research on this issue
- the discussion Scott Balson had with Ken Strachan in the late 1970s where Ken told him that the first set of S&Co were released in 1874 when Strachan and Co opened its doors under new ownership, and
- the 125th anniversary PDF (2003) issued by the Standard bank in Kokstad who state that when they opened their doors in 1878 the local money used in the Kokstad region, nearly 100 kilometres from Umzimkhulu, was the Strachan and Co coins.
Also for the record, the late Dr G P Theron and Balson had been in regular contact by written letter back in 1977 and Theron recognises the assistance Balson gave him in his book "Tokens of South Africa and their history". At this link Theron recognises Balson's input in HELPING him gather information on the Strachan tokens. Back then neither Theron nor Balson had any definate findings as to when the S&Co tokens were first issued as neither had Douglas Strachan's diary note been sourced nor Standard Bank's PDF been published independently by the bank. Balson's early discussions with Ken Strachan had, before the launch of Theron's book, been limited to the history of the Strachan family in S Africa and their stores. So Theron's published assumption about when they were first released was just that and has no factual basis. Balson was his authority on this subject so he should know. Here is what Theron says at the link above: "Recently a lot of new information about this firm was obtained by Mr C S Balson of Ixopo who spoke to Mr Ken Strachan, a descendant of the original owners of the firm." In fact the talk Balson gave to the Pietermaritzburg Numismatic Society in April 1977 page one here and page two here reflects two things. The suggested date by Theron as to the timeline they circulated is extracted directly from Balson's talk - the relevant piece is highlighted on page one. Balson sent Theron a copy of his talk - that's where Theron got the information on the Strachan tokens that he published in his book. The date suggested in Balson's talk was, as mentioned above, very early in the research done on the tokens and was later found to be incorrect - the correct date being the first set from 1874. This talk was given months before Graham and Balson started detailed research into the tokens. True to form, in July 2016, and here is the quote from Nortje: We now know that Dr. Theron was most probably correct when he told us that the very FIRST set of S & Co tokens were (at the very earliest) only issued at the turn of the 19th century (say late 1890s or early 1900s). As shown above Dr Theron says in his own book on tokens his information on the Strachan tokens came direct from Balson - and you have now seen the source. Of course this inconvenient reality being Theron's source on the Strachan tokens is completely left out of Nortje's post in the BidorBuy coin forum at this link where he states the piece in red above. (Second half of his post.) Anyone with a copy of Theron's book can confirm the scan above and what is being said here.
This again reflects Nortje's practice of fraud by deliberate omission of relevant facts, but it get's worse when Nortje digs an even bigger hole for himself.
When was "Kence – The Trade Tokens of Strachan and Co" published? 1976 or 1978?
Secondly, in a more recent example of his ongoing research fraud Nortje suggests the book "Kence" was published in 1976 and that Graham writes for help about when the tokens were released in the magazine Natalia in 1977 because he is unsure that the dates suggested in the book were correct. This is another example of Nortje's misleading lies. Firstly, even the letter by Ken Strachan where he thanks Balson for his copies of "Kence" that he had seen for the first time is dated 14th August 1978. (See page one and see page two). Furthermore the copies later enscribed by Ken Strachan and sent to directors in the firm is dated October 1978. In fact Balson was working at Barclays Bank in Greytown most of 1976 and only met Ken Strachan for the first time around Christmas that year at the Umzimkhulu agency run by the Ixopo branch - that was when Balson first heard about the Strachan tokens. Page two of Balson's talk linked above notes the next meeting on Thursday 26th May - that date was on a Thursday in 1977. In fact it was at that May meeting that Graham approached Balson with the idea of writing what became "Kence". As demonstrated above the book was published in the middle of the third quarter of 1978. Graham's requests for help in the 1977 Natalia were made not long after we agreed to write "Kence" not a year after it was published, and his requests for any help make perfect sense. Why does Balson raise this? Simple, just another classic example of Nortje's research fraud.
Here is the link to Nortje's post on Bob fraudulently suggesting "Kence" was published in 1976. (For the record Nortje has been told by others that this 1976 date suggested is wrong, and as the publisher has the ability to correct it at any time but doesn't.)