The Strachan & Co MH hits new heights
October 2005
A single S&Co "MH" 6d sold on eBay for US$187.50 in October 2005 setting a new record for a single S&Co trade token.
It was the first time that a coin from the rarest set in the S&Co series has surfaced for over two years and bidding was brisk.
The successful bidder was in for an unexpected bonus as the seller, Tom Mullins, was none other than the Magistrate at Umzimkulu in the late 1940s - following in the footsteps of Donald Strachan! Mullins also wrote the book on the Griqua stamp - the Mount Currie Express... see this link.
A screen dump of the eBay auction results are displayed below... what is quite extraordinary is the fact that the coin was sold unseen: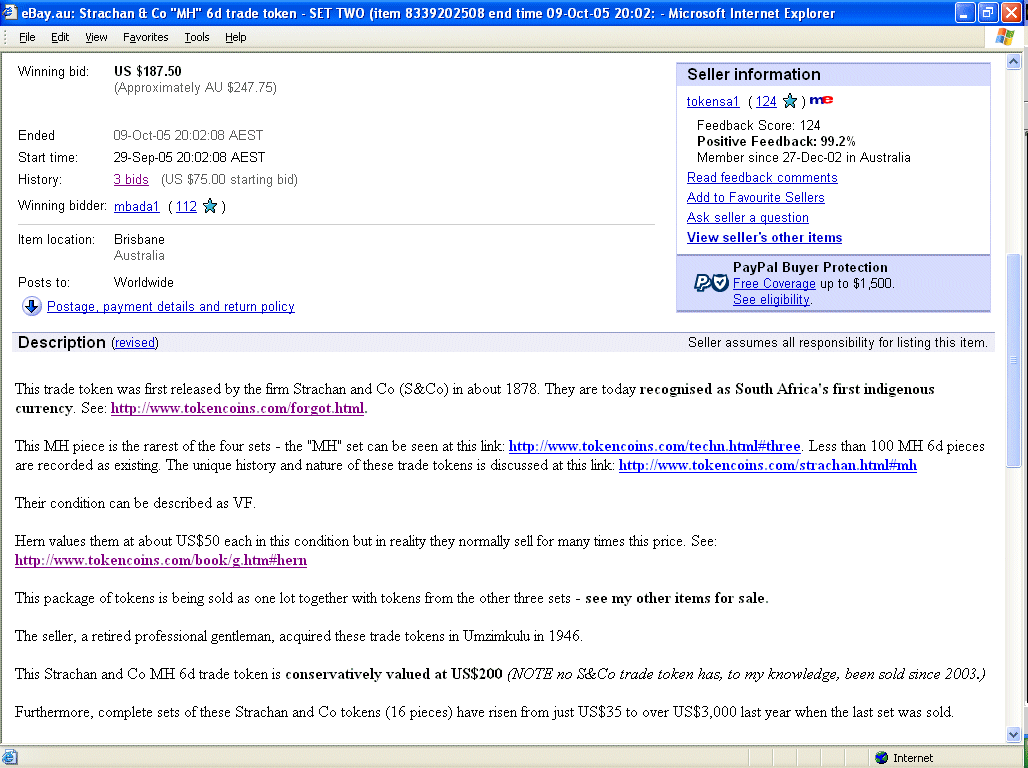 November 2005 Update:
Set One 1/- (S&Co) hits new heights...
The 1/- displayed below was sold through eBay in November 2005 for nearly US$100 after sixteen bids were received for the item in brisk bidding just before the auction ended.
Even the more common Strachan and Co pieces, like this coin, are now starting to demand high prices at auction. In a few years time I suspect bidders who missed out on this auction will sadly reflect on how cheaply they could have acquired an S&Co 1/- for "back then".